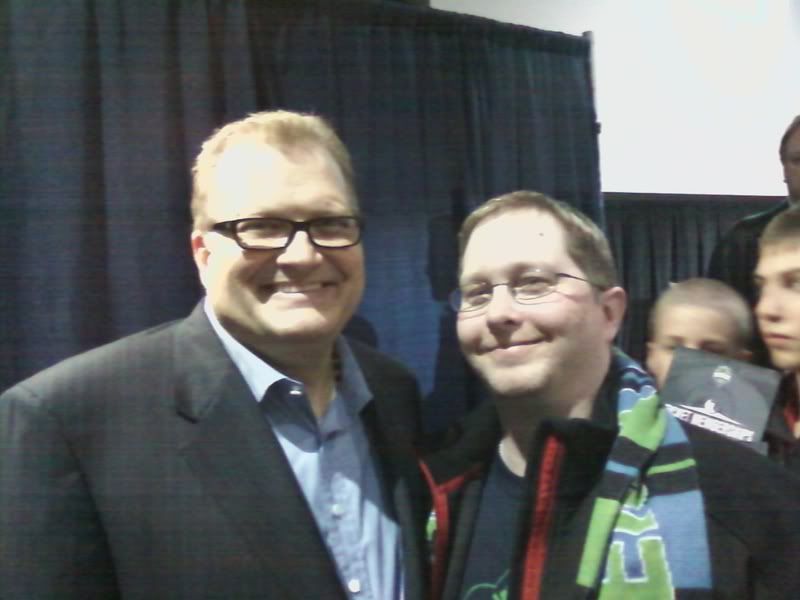 An
ECS member
snaps a shot with Drew Carey last night.
GoSounders.com has a recap
of the November 20 Sounders FC Membership Association meeting. You
can read more from Jose Romero
in his Seattle Times Sounders blog.
Now up for a vote amongst members are what to call the Association, and what to name the Sounders FC band.
Signed players Sebastien Le Toux and Sanna Nysassi were on hand to address the fans and talk about the excitement for the 2009 debut season.
Steve Clare reports on the night for ProstAmerika.com
:
The first ever meeting of the Sounders FC Membership Association attracted more than 500 people to Qwest Field, a quite remarkable achievement for a meeting that wasn't high on blockbuster announcements. Drew Carey, Bart Wiley and Gary Wright ran the show in the absence of those front office members heading to Los Angeles to watch the MLS Cup Final. Sounders FC's two lesser known players were introduced to the crowd but most of those attending seemed well versed in the talents of Seba Le Toux and Sanna Nyassi. The quiet Gambian who frankly looked like he prefers playing to sitting on a podium, did however come up with the memorable line of the night in the question and answer session. Asked which players, he was most looking forward to playing against, he reminded the meeting that he regularly calls his brother, Sainey currently playing at the New England Revolution and vows to "whoop your ass" when the two sides meet next year.