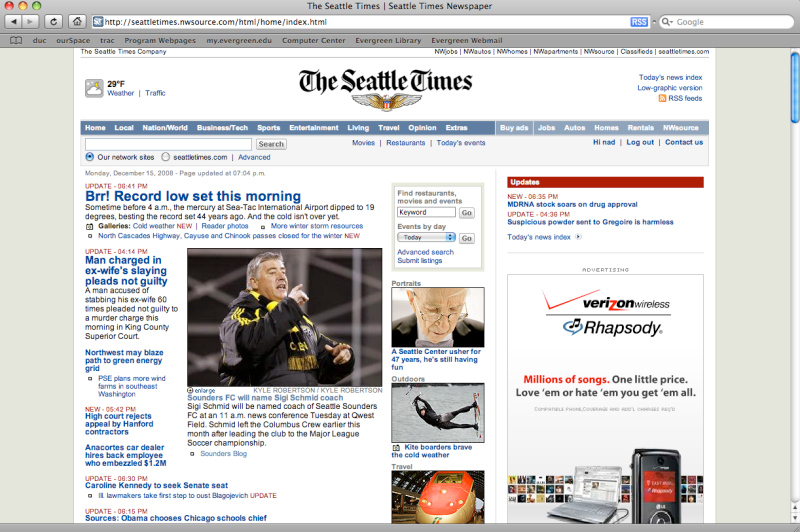 The signs are good, and for now, that's enough. Signs that mainstream Seattle media will initially embrace Sounders FC are bubbling up around Puget Sound.
If the Sounders weren't a soccer club, but one from the NFL, MLB, NBA or NHL then extended coverage in Seattle sports papers would just be assumed. Even in soccer-loving Seattle, though, the professional sport has been a niche affair, and even within that niche has been all but dormant for decades.
Now with over 18,000 season tickets sold and Sounders FC hammering away with one big signing or announcement after another, it appears media are taking notice, and in return providing coverage that could bring the club to the sports community at large.
The words "pro soccer" and "Art Thiel" are not ones you'll normally see beside each other in a complimentary way. The P-I columnist wrote very skeptically on the day of the announcement of Seattle getting an MLS franchise.
Here's Thiel recently on KPLU radio talking about Sounders FC.
He's talking more about opportunities and less about failure.
Here's the Seattle P-I
commenting in a story about Kevin Calabro
:
Seattle fans do have the opportunity to welcome Sounders FC; they have with 18,000 season-ticket packages, making it the biggest sports debut since the Mariners' arrival in 1977.


The Seattle Times has set Jose Romero loose
with his own Sounders blog
, and he's been posting often. The paper also had a print-edition spread on the Sigi Schmid signing that covered much of the sports section's front page. Stories appear regularly now in the Tacoma News Tribune and in
Don Ruiz' blog for the TNT
.
We are gaining a precious first foothold.
Sounders fans are noticing.
Photo credit: Seattle Times website capture by Danimal.