SOUNDERS TO PLAY JUVENTUS PRIMAVERA AT STARFIRE,
GREAT CHANCE TO SEE FUTURE SERIE A STARS
(Seattle, WA) – The Seattle Sounders will face Juventus Primavera on June 12 at the Starfire Sports Complex at 7 p.m., it was announced today. Seattle is one of three stops for Juventus Primavera on a preseason tour of the United States.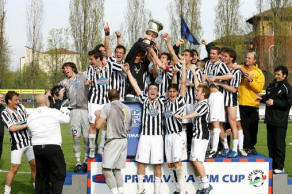 "The Sounders organization is excited to bring another international friendly to Seattle this summer," said Sounders general manager Bart Wiley. "Juventus Primavera will give our fans a chance to see the up and coming superstars of Serie A."
Tickets for the Sounders' exhibition match against Juventus Primavera, go on sale Thursday, May 22, at 10 a.m. Tickets are $15 in advance through Ticketmaster at www.ticketmaster.com or by calling 206-628-0888. Tickets are $20 at the gate.
Group tickets (15 or more) are available by calling 206 381-7908. Group tickets are $13.00.
A squad of up-and-coming players for Juventus, its Primavera squad features four youth international players. Goalkeeper Carlo Pinsoglio and midfielders Fausto Rossi and Simone Esposito are all members of Italian Youth National Teams, while defender Yobie Bassaoule is a member of Burkina Faso's (Africa) U-21 National Team.
Visit the Juventus Youth website.

Several members of the Primavera team have suited up for Juventus' first team, which competes in the Serie A – the top tier of Italian professional soccer. Among those called up were defender Salvatore D'Elia, midfielder Luca Castiglia and forward Donato Bottone, who scored a goal in a friendly against Biellese earlier this season.
Juventus Primavera competes in Italy's Campionato Primavera, a 42-team
league comprised of top feeder teams from each of Italy's Serie A and B clubs. Juventus Primavera finished in first place in the league's Group A standings, and have moved on to the Youth League Finals.
In its 46-year history, Juventus' Primavera team has captured several titles in both league and nationwide competitions. Including the inaugural Primavera league title in 1962-63, Juventus has won four Primavera league championships (1962-63; 1971-72; 1993-94; 2005-06), three Primavera Italian Cups (1994-95; 2003-04; 2006-07) and back-to-back Primavera Super Cup titles in 2006 and 2007.
The Sounders next match is against the Vancouver Whitecaps, 7:00 pm Friday, May 23 at Swangard Stadium. The match can be seen on Fox Soccer Channel.
ABOUT JUVENTUS
Juventus was founded in 1897 by several students from a local school as Sport Club Juventus. It first joined the Italian Football Championship in 1900, and at the time, was known for its pink and black uniforms. In 1905, Juventus captured its first league title and since has become one of the most successful clubs in Italian soccer history and arguably throughout Europe. Recognized now by its trademark black-and-white striped jerseys, Juventus has won a total of 40 league championships – more than any other Italian club – and 11 European championships, including two UEFA Champions League titles.